From miniature figurines and plush toys, through to puzzles and toy chests; there are a whole range of Inside Out toys and merchandise that any movie-buff kid will love. We've put together a list of the top 13 Inside Out toys to make things easy for you.
Inside Out Inside Out Deluxe Figure Playset
The Deluxe Figure Playset comes packed with all of the recognizable characters from the Inside Out movie, giving the kids full creative reign over their own stories. Just tear open the presentation box to unleash the emotions and add a little creativity.
Prices Vary
Inside Out Memory Orb with Voice Recorder
Now they kids can take scenes from the Inside Out movie home with them from the cinema. With a quick twist of the dial mounted on the Memory Orb, they'll see scenes from the movie projected inside the Orb. It'll also play recognizable phrases and even let them record their own.
Prices Vary
Inside Out Joy Talking Action Figure
This is no simple, ordinary doll; Joy is a talking action figure inspired by the same gal from Inside Out. With a squeeze of the hand, she'll start babbling away happily. The kids will be filled with joy when they receive this action figure as a gift.
Prices Vary
Inside Out: Emotional Adventure Puzzle (3 x 49 Piece)
Everybody loves a good puzzle during a rainy weekend afternoon, and this box has three of them. This collections of Inside Out puzzles is the perfect family activity to keep the kids busy, whilst also helping them to develop logical problem-solving skills.
Prices Vary
Inside Out Anger Animated 9'' Talking Plush
Compared to the other Inside Out plush toys, Anger has a proper attitude on him and is build much more solid and sturdy. With a range of over 13 angry phrases to speak, he's sure to ruffle a few feathers around the household.
Prices Vary
Inside Out Deluxe 8'' Plush Set of 6
Packed inside this set of Inside Out characters is not just one squishy plush toy, but six. Joy, Bing Bong, Disgust, Fear, Anger and Sadness are all represented. If they're ever feeling happy, sad or afraid, clutching one of these close will help them to feel better.
Prices Vary
Disney Infinity 3.0 Edition: Disney Pixar's Inside Out Play Set
With a 3D Toy Box Hub, the kids will be able to explore a whole range of gameplay experiences, from platforming and racing, to farming simulation. All of this is possible using a whole host of characters, including Joy and Anger from Inside Out, which are part of this set.
Prices Vary
Inside Out Collapsible Storage Trunk
With all those new Inside Out toys, the kids are going to need somewhere to store it all and keep the house tidy. This Inside Out Collapsible Storage Trunk has plenty of space for those figurines and plush toys, with a sweet movie-themed decal on the side.
Prices Vary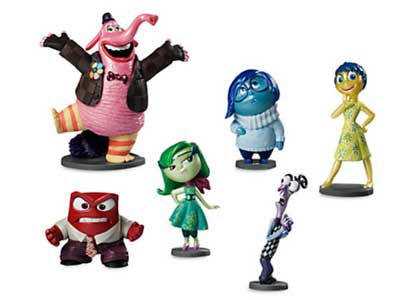 Inside Out 6 Piece Figure Play Set
Though this play set has fewer figurines than some of the others, it's a real steal and would make an ideal stocking stuffer or small gift for any kid who loves Inside Out. They're also the perfect size for using as birthday cake toppers at any themed party.
Prices Vary
Inside Out Troll Plush
This little fellow can transform from a troll into a rock, just like he does in the Inside Out movie. Still, he's nowhere near as tough as the real thing. As a plush toy, the kids will love holding onto this little guy tightly.
Prices Vary
Inside Out Sadness Talking Action Figure
This Sadness action figure is every bit the epitome of sadness, just as she is in the movie. The phrases that she can speak may be a little downtrodden, but there will be no frowns on the kids faces when they add this doll to their Inside Out collection.
Prices Vary
Inside Out Big Golden Book
Following along with the hit movie's storyline has never been so easy. This book follows the exact same story arc, but gives the kids more time to connect with the story. It's best enjoyed after watching the real thing, so that they can fully appreciate each different character and their traits.
$1.44
Inside Out Stickers ~ 295 Reward Stickers
If they love the movie, then they'll love these stickers, too. They could use them to create their own collage or decorate their journals, or their parents can use them as a reward for good behavior. With 295 stickers included, it'll take some time to get through these.
Prices Vary
(You may also like: 22 Disney Infinity 3.0 Action Figures You Should Collect)
---