When seeking the best lake toys on the market, delight in a waterborne jungle gym, a waterpark that boasts fun standing or sitting, and inflatable floating water walkways, to name but a few. Add safety, fine construction, and guarantees of summertime joy, and memories of amazing sunny times are guaranteed.
The Navigable Water Park
This waterborne jungle gym supports 40 friends, is floored with artificial turf, four-foot high handrails, and equipped with two Olympic-grade trampolines that launch jumpers safely into lake waters. Add stable buoyancy for three aluminum decks, two wet steps, and with maximum support of 7,600 pounds, this is definitely among the best lake toys ever.
$71,000.00
Unicorn Party Bird Island
With a six-person capacity, this giant unicorn pool float grants you and your sweet children comfortable, playful time in the pool or at the beach. The durable, premium vinyl floaty inflates in 20 minutes and supports up to 700kg in weight while its bright colors will keep your kids safely engaged and entertained.
Prices Vary
The Barbecue Dining Boat
Sharing a meal with dear friends elevates to peaceful, happier levels with the barbecue dining boat. Complete with a built-in grill, a trolling motor that provides power for waterborne cookouts, and retractable umbrella, the 10-adult boat features every necessary upscale dining supply required for outdoor feasts, thus ensuring a blissful, celebratory escape.
$50,000.00
Driftsun Summer Water Products
From kneeboards to floatation devices to kayaks and wakesurf boards, Driftsun equips you and your youngsters for lifesaving water fun. Treat yourself to a floating yoga mat while your young one enjoys the water wearing an inflatable life belt, then retire to a swinging hammock for a nap. Summertime is meant for sun and relaxation.
Price varies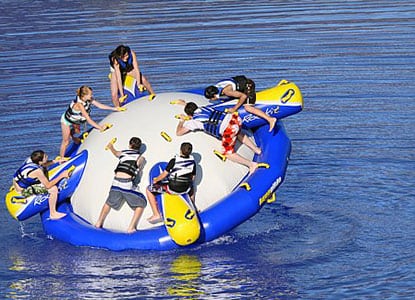 Aquaglide Rockit Water Park
Create a waterpark at your summer lake or ocean retreat with the unlimited fun of the Aquaglide round rocker. With space for up to eight people, it grants innumerable fun standing or sitting, and with a UV block that is guaranteed to last three years, ageless aqua amusement is destined for great, splashy memories.
Prices Vary
WOW World of Watersports, Inflatable Floating Water Walkway
Affordable fun in the sun defines this inflatable floating water walkway. With a connecting zipper system, adjoin several and create a walking island. Each 6 x 10 foot piece is made of heavy-duty 30-gauge PVC – strong enough to support six adults – so buy several, bridge the gap, and enjoy your own islands of cheer.
$116.99
Rave Sports Splash Zone Plus
Create your own water park and your kids will rave, cheer, and splash. Complete with a 12-foot diameter water bouncer, 10-foot long balancing log, six-foot long slide, and an easy-up boarding platform with four anchor points, the splash zone can be used as a floating terrace in ocean or lake waters, for splendid summer memories.
$1499.95
Bestway CoolerZ Rapid Rider Inflatable Island Tube
Summertime calls for floating in an island with beloved friends and family. Replete with comfortable built-in backrests, cup holders, cool mesh bottom, and made of durable high-gauge PVC material, this Rapid Rider easily seats four people. Add an all-round grab rope, two built-in coolers, and an open bottom for dipping feet, and it's absolute paradise.
$116.99
(You may also like: 29 Safe and Interactive Outdoor Toys for 5 Year Olds (Love These))
---