Add some Funko POP Black Panther figures to your home and bring your collection up to date. With a whole host of characters from the hit movie, you can show your love for Marvel by displaying them here, there, and everywhere. This list is the one stop shop to fulfilling that dream.
Funko Pop Marvel: Glow in Dark Black Panther
Light up your life with this glow in the dark Funko POP Black Panther figure. This epic vinyl made figurine is the perfect addition to the movie lovers' life. With high quality detailing throughout, including claws and the blue color running through the suit. Ideal for displaying or as a mini night light.
$27.00
Funko Pop Marvel Black Panther Robe Collectible Figure
King T'Challa is here without his legendary Black Panther as a high quality Funko POP figure. Wearing his Wakandan robes, this awesome display piece is the ideal way to show your love of the fictional homeland, and your love of the movie. A great addition to any Marvel collection.
$18.08
Funko POP! Marvel: Black Panther Movie
Positioned as if ready for war, this Black Panther figurine from Funko POP is here to bless your collection. Wearing his iconic and highly detailed suit (without the mask), T'Challa stands at almost 4 inches tall, is authentic and is a highly sought after collectors piece.
$18.50
Funko POP! Marvel: Black Panther Warrior Falls
Stripped of his special powers (and his suit), this particular Black Panther vinyl figurine represents the battles of Warrior Falls. Relying on his own abilities, T'Challa must defeat his opponents to remain the Black Panther. Display him proudly among your collection of Funko POP figurines.
$12.00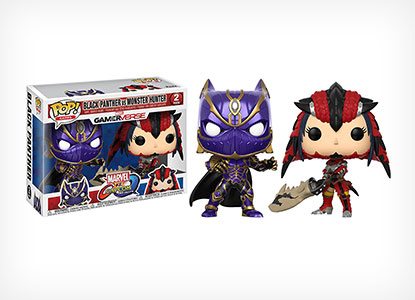 Funko Pop Games: Marvel Black Panther Vs Monster Hunter
Check out this epic release from Funko POP! This Marvel vs Capcom edition showcases two individual figurines for your collection: Black Panther vs Monster Hunter. With awesome detailing and even a cool sword, you cannot go wrong. The perfect center piece to any display.
$39.99
Funko POP! Marvel: Black Panther Movie Nakia Figure
Show the Black Panther fan in your life that you care with this stunning looking figurine from Funko POP. Nakia is a member of the War Dogs and will often spy for the good of Wakanda. Let her spy on you as you display her proudly amongst your collection.
$21.99
Funko POP Marvel: Black Panther Civil War Action Figure
Say hello to the Black Panther that we have all seen in Captain America: Civil War. This Funko POP Black Panther figurine is an imperative part of any and every POP collection there is. High quality, and highly detailed, he looks angry and ready for war.
$19.03
FunKo POP! Marvel Black Panther Chase Variant Figure
This Funko POP Black Panther figure is about as awesome as they come. Wearing the full Black Panther suit, this chase variant is a rarer example of the Black Panther and is an important part of any serious collection. Stunning to look at, it will be a real conversation starter in your home.
$46.90
Funko POP! Marvel: Black Panther Movie Erik Killmonger
Add the bad guy to your collection with this Erik Killmonger vinyl figurine. Created by Funko POP, this Killmonger figure is highly detailed and even comes armed with a sword and sphere. Standing at almost 4 inches tall, it is a guaranteed hit with anyone who loved the new movie.
$13.99
Funko Pop Marvel Black Panther Robe Collectible Figure
Wearing his Black Panther black robes, T'Challa is here in Funko POP form ready to be added to an already awesome collection. Fans of the film will know just how iconic his robes are and will love to showcase them on a highly detailed stylized POP vinyl.
$29.21
FunKo POP! Marvel Black Panther Erik Killmonger
Check out this limited edition chase variant from Funko POP. This Erik Killmonger vinyl figurine is a hard to find, limited edition figure inspired by the new Black Panther movie. High quality and officially licensed, it is the perfect gift for any Black Panther or Marvel fan.
$46.68
Funko POP! 1966 Mask & Cape Black Panther
This throwback Funko POP figurine is definitely one for the hardcore Marvel Fans as it features Black Panther as he was first seen in 1966 with Fantastic Four. Wearing a black cape and mask, there has never been a better time to get your hands on this hard to find display piece. Awesome.
Prices Vary
Funko Pop Marvel: Black Panther Shuri Collectible Figure
What better way to show your love for the Black Panther than with this figurine of his sister, the Princess of Wakanda. Shuri is here and looks ready and raring for battle. Display her among the rest of your collection, or simply get her as a gift for anyone you know who adores the movie.
$25.00
(You may also like:
32 POP! Figures Every Collector and Enthusiast Needs
)
---