Most toy trucks or planes that you give your child for Christmas end up getting worn out and thrown out by the same time next year. This year, give your child a toy that will last them a lifetime. The quality or Hess Toys are famously durable and designed to last through years and years of playtime.
2016 Hess Toy Truck and Dragster
The newest edition is here! This year, the Hess Company has unveiled their latest addition to represent 2016- The Hess Toy Truck and Dragster! Speaking of tradition, why not begin a Christmas tradition of your own this year? Give the gift of this collectable combo that you child will look forward to year after year.
Prices Vary
2015 Toy Fire Truck & Ladder Rescue
While certainly not a vintage edition, this 2015 Toy Fire Truck & Ladder Rescue will likely be kept around long enough to enter its vintage stage. Battery operated, this fire truck comes complete with lights and sirens that is as classic as they come! This is a timeless toy that will stay in their lives forever.
$78.00
2013 Hess Toy Truck & Tractor
Dim the lights down and watch this Hess Truck's bright head and tail lights glow as it tows a mini tractor around treacherous bedroom rows and hallway bridges. Scoop up toys or even snacks on the front of the tractor using the mechanical digger. The 2013 Hess Truck & Tractor is a great way for sons and daughters to emulate their daddies in the construction business.
Prices Vary
Hess 2012 SUV and Helicopter
The safety squad is in full force with this holiday gift. Featuring a medevac helicopter with a spinning propeller, flyby sound effects and functioning cargo door, along with a rescue SUV which fits perfectly inside the helicopter- this 2012 Hess duo belongs to any mini hero in your family.
$44.18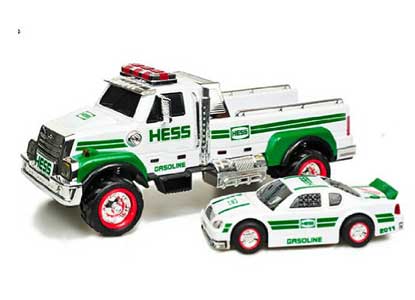 2011 Hess Toy Truck and Race Car
Hess trucks and cars are loved all year round- even when the Christmas events are through. You'll be watching the kids play with this 2011 Hess Toy Truck and Race Car duo during every season of the year. They'll love the pushbutton activated lights and sounds that help them enter a world of imagination.
$40.68
2010 Exclusive Hess Truck with Jet
Ignition sounds, launch effects, and flashing lights are enough to make the jet the main attraction- but don't forget about the big truck and trailer needed to haul that jet around. Sturdy and powerful- this is a gift for a tough kid. They'll be elated to receive two mighty gifts in one!
Prices Vary
2000 Hess Fire Truck
What little boy or girl doesn't dream of being a firefighter at some point in their life? Spark their interest with this fantastic Hess Fire Truck, originally released back in the year 2000. Once they outgrow playing with toys, this hook and ladder fire truck will look fantastic as a collectors item sitting on their bedroom shelf.
$26.18
2009 Hess Race Car and Racer
This Hess Race Car duo from 2009 proved to be one of their strongest selling annual releases. The classic white and green paint along with stunning design makes this a hot ticket item that any Hess fan would be lucky to receive this Christmas. You could even split the set giving the big Race Car to daddy and the smaller Race Car your child.
$45.88
1995 Hess Toy Truck and Helicopter
The 1995 Hess Toy Truck and Helicopter will be truly appreciated by a dedicated collector of Hess toy trucks. I'm referring to the big boys in your family whose mothers and fathers started the Hess tradition for them when they were kids. This toy Truck and Helicopter while reignite that childlike nostalgia in even the toughest grown men.
Prices Vary
Vintage 1985 First Hess Truck Toy Bank
Can you believe that 1985 was almost 30 years ago? Commemorate history with this 1985 First Hess Truck Toy Bank that will never go unused. Teach your young ones how to save their pennies with this toy truck on the shelf or surprise the ultimate Hess collector with a coveted toy.
$47.90
(You may also like: 22 Toy Trucks for Indoor and Outdoor Play)
---