I didn't feel like unboxing the Fisher-Price Transforming Batbot was too challenging. He was secured in the bottom of the packaging with several twist clips and zip ties throughout to secure him and his Batman figuring accessory inside the package. Frustration free isn't available for the Batbot through our friends at Amazon.com but although he was a little bit of work, I don't think it was too bad.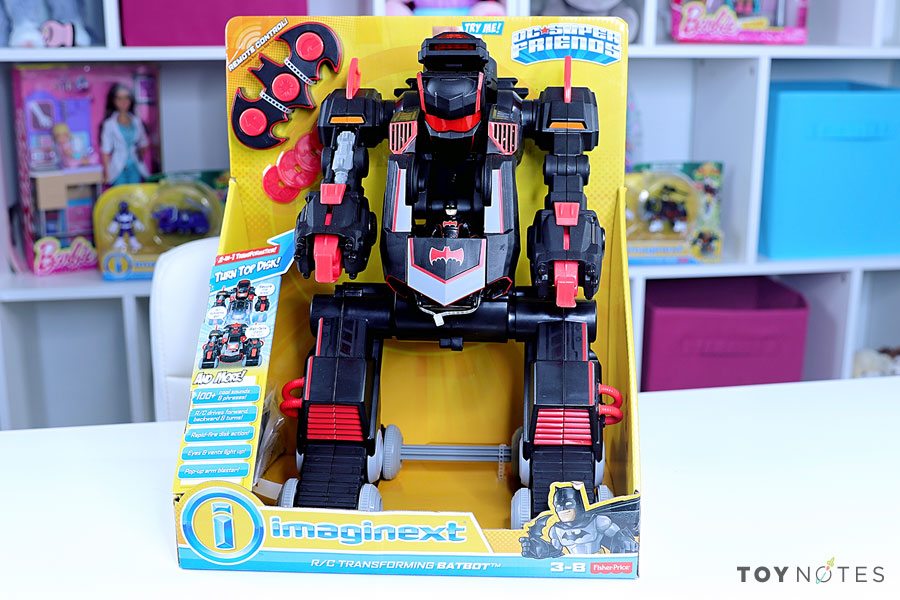 I really liked playing with the Fisher-Price Imaginext DC Super Friends RC Transforming Batbot. I was hesitant to try collapsing it at first because he really didn't want to collapse easily. Once it had transformed once it went easily thereafter. I had to install 2 AAA batteries in the remote in order to make the Fisher-Price RC Transforming Batbot operational. That's in additional to the 6 AA batteries required inside the Batbot itself.
Using the remote, you can order Batbot to move straight ahead, transform and turn around. He also has lights that flash, a disc launcher as well as claw hands and sound effects.
I like that the Fisher-Price Transforming Batbot can transform so easily using the remote control or power pad. I liked the disc launcher feature as well. The sound effects were a little loud but thankfully, it has an off/on switch to conserve both battery power and parental sanity.
I do not like that the Fisher-Price Imaginext DC Super Friends RC Transforming Batbot doesn't have volume control because he is a little loud for my taste. Also, the Batbot is a battery-eating machine! 6 AA batteries for the RC unit and 2 AAA batteries for the remote control. I have said before that I already feel like my son's toys eat batteries. I am not so excited about a toy that uses 8 at one time.
This toy is recommended for ages 3-8 years old. I think that the small pieces definitely disqualify this toy for any child under 3. I don't necessarily think that 8 years old is a cut-off point however, I think there is definitely entertainment value beyond that age mark.
Imaginext RC Transforming Batbot: Worth it?
My final assessment of the Fisher-Price Imaginext DC Super Friends RC Transforming Batbot is that it is a battery eating, transforming and Batman themed good time. I liked this toy and didn't think it was a bad toy at all. I think that the Transforming Batbot is priced a little on the high side but this is likely due to the DC comics and Batman theme. If given the option, I might price compare this with other RC toys that are a little less expensive before committing to the purchase on this toy again. If your child loves Batman, they will be thrilled with this. However, if you are just in the market for a transforming RC toy, you might find a better deal elsewhere.