Need a quick go-to that keeps the kids entertained? Don't worry, you can rely on these wicked movie apps. Some even offer much more, such as thrilling games, interactive books, puzzles, emojis and so much more. Safe to say you won't be hearing a peep out of them for quite some time.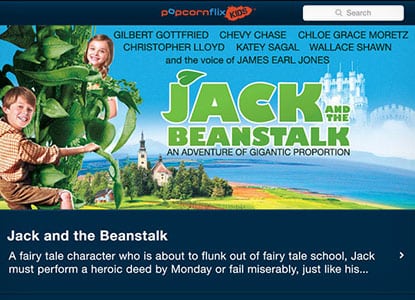 Popcornflix Kids
Popcornflix Kids brings you hundreds of amazing Hollywood movies that are not only full-length and family-friendly but FREE (yes, really). It doesn't require an off-putting subscription service of any sort, nor any fees. So, you can let your children watch their favorite movies again and again completely worry-free.
PBS Kids App
With just SO much to offer, there is simply no other app quite like PBS Kids. It has absolutely everything boys and girls would want for enjoyable educational entertainment; sensational games, silly sing-a-longs, banging episodes, exciting e-books, and even puzzles and problems to get their minds whizzing away.
MishMosh Kids
Made for kids ages 3 to 12 is MishMosh, a unique and fun yet educational app that features everything a kid could ever want. MishMosh contains awesome videos, exciting games, mind-boggling quizzes, gripping e-books and so much more. The more games, polls, and puzzles they complete, the more cool badges they can earn.
YouTube Kids
You never know what nasties can pop up when children are searching for something seemingly innocent online, which is why Youtube Kids is 100% the app you're going to want for your child. Youtube Kids allows parents/carers to adjust controls so that only family-friendly videos can be watched, meaning children can then browse safely.
Toon Goggles
With a 'strict screening process', parents can breathe a little easier knowing ALL content available on Toon Goggles is guaranteed to be age-appropriate. This means that no matter your child's age, they can browse Toon Goggles freely, and safely enjoy any song, game, and program they like.
Disney XD App
Kids obsessed with Disney XD are going to LOVE this exciting new app; not only can they now watch their favorite programs whenever they like, but they can watch the channel live. It's also available on all devices, so they can enjoy shows such as Walk the Prank and Ultimate Spiderman anywhere and everywhere.
KidsFlix Free
KidsFlix is totally a youngsters' and parents' dream come true. It allows you to set time limits and curfews so that they can only be on it when allowed. That said, there are also sections where you can find out what and how much is being watched, plus so much more.
Nick App
With all of their favorite classic Nickelodeon programs ready and waiting at your fingertips, there are simply no reasons why you should give this awesome app a miss. Not forgetting the constant addition of fantastic new shows and wickedly addictive games, Nick App is for sure a winner.
Disney Channel App
Time for you to finally relax? Find yourself having to watch the Disney channel to keep your offspring happy? Well, you'll be more than pleased to know that they can now keep up with all of the smashing series and episodes they like with Disney's top-notch new app – it can even be watched live!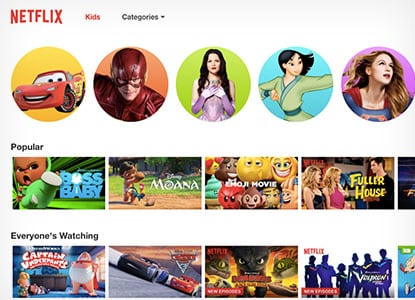 Netflix Kids
When it comes to movie apps, Netflix is for sure one of the most highly recommended, and it's easy to see why. For just a small monthly price, you AND your children can watch any of the shows, series, and movies it features. Plus, the kid's section only includes family-safe titles for safe, fun viewing.
VUDU KidsZone
VUDU KidZone offers content for cherubs of all ages. It brings girls and boys new TV shows and movies as well as the unforgettable classics that you just can't help but watch over and over again. It also has bundle offers to help you save even more precious pennies, so what are you waiting for?
DisneyNow
With amazing games and the ability to personalize their profile with neat emojis and set 'favorites', no matter your tyke's age they're sure to love DisneyNOW. Parents can even change the app to Disney Junior Mode so that toddlers and preschoolers can join in on all of the crazy fun, too.
Disney Junior Appisodes
Disney Junior Appisodes brings you much more than just their popular shows. It also gives you Watch+Read Books, to help your kids learn, interact, and enjoy motion stories like they never have before. After a free 7 day trial, should you choose to subscribe, you'll then receive new books and Appisodes every month!
(You may also like:
13 Must-Have Drawing Apps for Artistic Kids and Teens
)
---