Leapfrog are one of the leading toy retailers specializing in early learning and educational play. In 2016, they released a range of stimulating, exciting and innovative toys that take your child's learning experience to a new level. Here are 13 of the latest toys.
LeapFrog Scout's Goodnight Flashlight
The Scout's Goodnight Flashlight is a new toy for kids who struggle to go to sleep. The multiple settings allow for night time adventures in flash light mode followed by 20 minutes of glowing stars that can be beamed onto walls and ceilings. It even sings a soothing lullaby to help ease you into dreamland.
Prices Vary
LeapFrog Count & Crawl Number Kitty Musical Toy
Help your toddler refine their numeracy skills with this educational Count & Crawl Kitty! This kitty is designed for interactive push-and-play fun, which includes a rhyming number game and upbeat music mode. There are many songs and games to select, all of which aim to help your child learn.
Prices Vary
LeapFrog Disney/Pixar Finding Dory Learning Game
Explore a large number of puzzles, logic games, pipe mazes and hilarious quizzes to help Dory find her home! This interactive learning pad is great for teaching your kids their ABCs, numbers, shapes, colors and pattern recognition. Suitable for children aged 4-7.
$26.92
LeapFrog Fridge Numbers Magnetic Set
This interactive fridge numbers magnetic set goes one step further than traditional fridge magnets. Choose from one of the 20 magnets, each depicting a different shape, number or food type, click it into Scout's picnic basket and he will say something educational! Perfect for preschoolers.
Prices Vary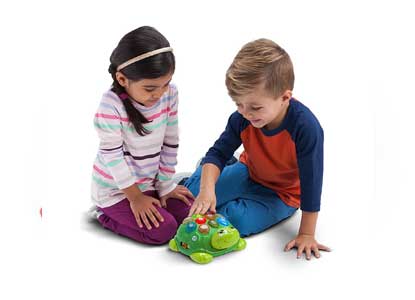 LeapFrog Melody The Musical Turtle
Are you quicker than a turtle? This interactive learning toy encourages you to find the answers before the music stops! Includes many different number and spelling games, as well as repeat pattern activities and memory testers! Play on your own or with friends!
Prices Vary
LeapFrog Scout's Count & Colors Band
The Scout Count & Color Band toy allows your child to explore different instruments and sounds in a fun and interactive way. Press down on the cymbal or drum, slide the trombone switch, lean the saxophone left and right or turn the guitar handle to the right. Includes a variety of music genres to experiment with.
Prices Vary
LeapFrog Count Along Cash Register
Set up shop and help your preschooler refine their counting skills with this Count Along Cash Register. Includes 50 fun phrases and educational songs, as well as a variety of food items such as grapes, tins and bread. Play alone or with friends. Shopping has never been so much fun!
$48.75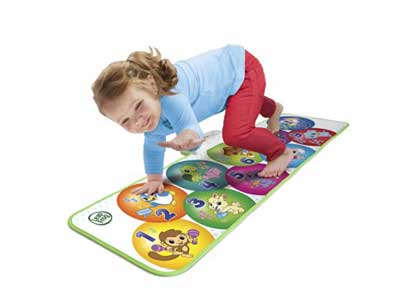 LeapFrog Learn & Groove Musical Mat
Laugh and learn with this Groovy Musical Mat by Leapfrog. Jump and land on different parts of the mat to trigger sounds and songs. Step on circles 1-9 to hear 1 of 9 children's tunes or step on Circle 10 for free play, where you can enjoy inventing your own melodies. Can be played alone or with friends.
Prices Vary
LeapFrog Letter Factory Leaping Letters
Encourage your preschooler to practise their matching and spelling skills with the Letter Factory Leaping Letters toy new to 2016. With an adjustable timer, vibrant color-coded pieces and assorted activity cards, your child can memorize the alphabet with ease and learn to spell their favorite words!
Prices Vary
LeapFrog LeapStart Interactive Learning System for Kindergarten & 1st Grade
The Leapstart Interactive Learning System is all your preschooler needs to prepare themselves for the 1st grade. Includes over 300 games, activities and tasks, all of which are designed to refine your child's memory, maths, logical thinking, spelling, sound recognition and cognitive abilities.
$42.48
---