Unicorns are awesome, but do you know what's really cool? Robot unicorns! Always great for cuddling, unicorn toys have been given an electronic upgrade in this special selection of beautiful, magical creatures which can sing, dance, eat, and even respond to your child's commands; some of them even teach kids the basics of engineering! When you see your child's face when they unwrap one of these fabulous toys, you'll know it was worth every penny.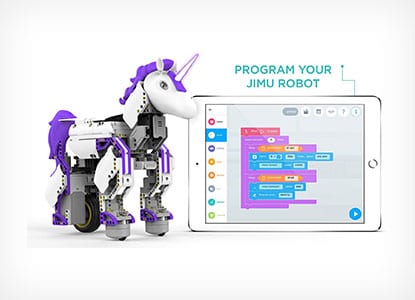 VTech Myla The Magical Unicorn
With all the magic they could expect from a mythical beast, Myla's colors can be changed with a touch of the magical brush, all ready for her singing and dancing debut.
$64.99
FurReal StarLily My Magical Unicorn
Totally enchanting, StarLily has snow white plush fur with pastel purple accents, light-up horn, and delicate wings which will flutter as she responds to sounds in over 100 different ways.
$149.99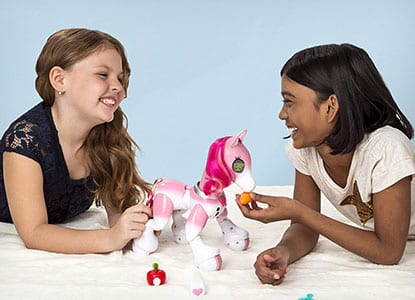 Zoomer Show Pony Unicorn
Zoomer Show Pony is a delightful unicorn robot who will do anything to please! Feed her, brush her, and love her and she'll reward your child with tricks and moves they'll adore.
$275.04
Build-A-Bot Unicorn Robotics Kit
There's never been a cuter robot than this beautiful unicorn, which kids can build themselves using click and create pieces, before clapping their hands to see her jump, walk, and play.
Prices Vary
Little Live Rainglow Unicorn Vet Set
Even unicorns get poorly sometimes, and Rainglow is looking for an owner who will nurse her back to health and happiness using the cute magical accessories that she'll arrive with.
$85.95
Zoomer Zupps Tiny Unicorn
In the beautiful colors which only unicorns can have, 'Dream' is a pocket sized robot who sings, plays, and even has a beautiful sparkly horn which lights up in answer to questions.
Prices Vary
Little Live Pets Sparkles My Dancing Unicorn
All Sparkles needs are cuddles and cupcakes! Show her some love and she'll nuzzle, glow, trot, and even dance, or feed her a cupcake to see her horn change color as she eats.
$28.00
Thames & Kosmos Robot Unicorn Building Kit
8 awesome robotic animals can be built using this brilliant kit from Thames and Kosmos – including a unicorn, teddy bear, and narwhal – which introduces kids to the basics of engineering.
$26.95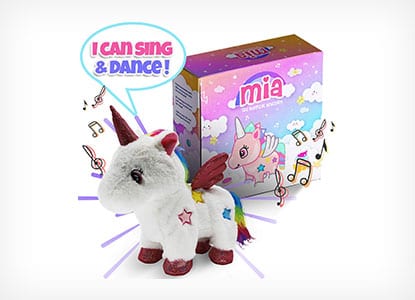 Mia The Magical Unicorn
Magical Mia really lives up to her name as she casts a beautiful rainbow glow around her while she dances, sings, or walks her way into your child's heart.
$39.99
---