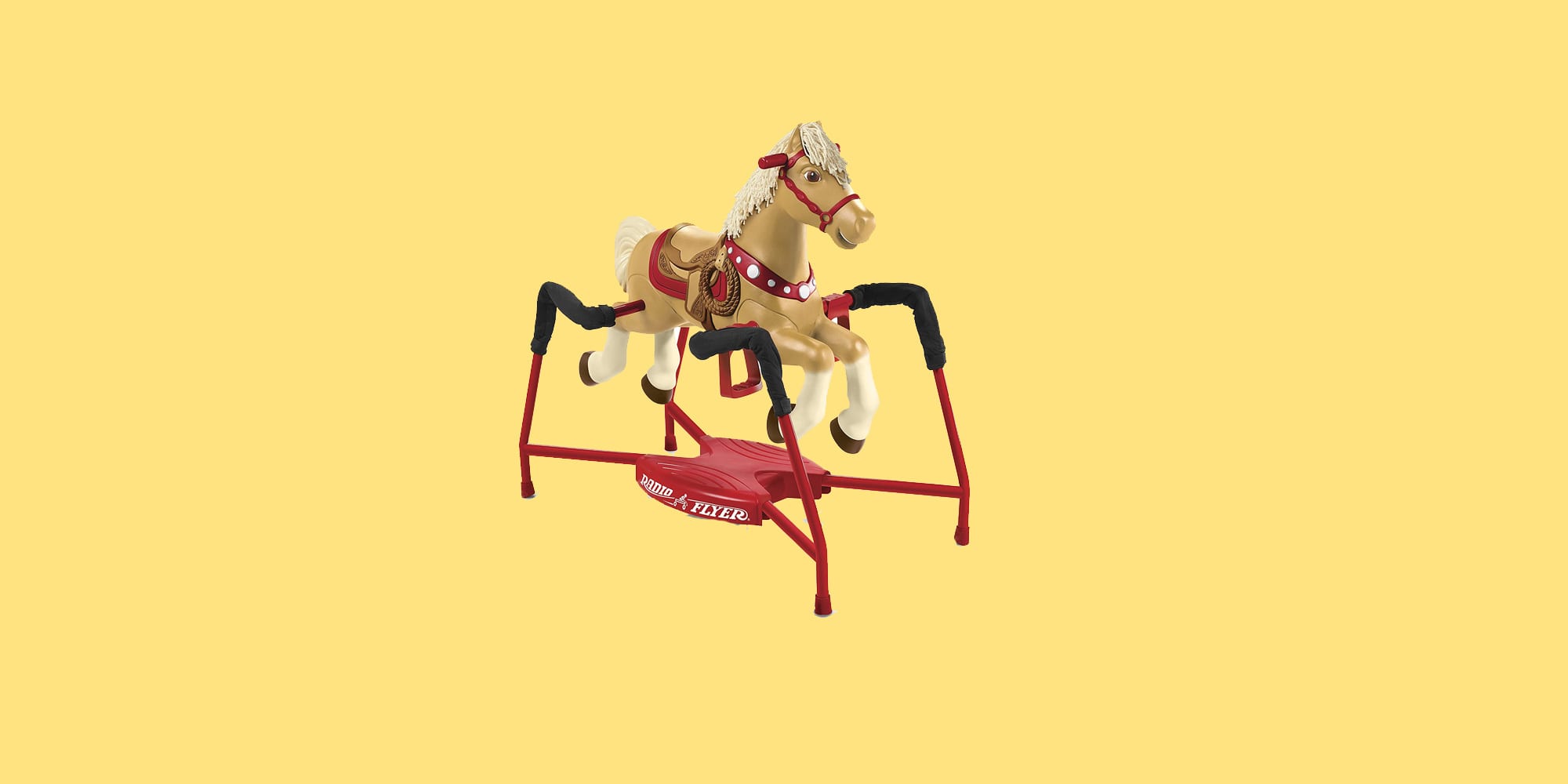 A spring rocking horse is one of the first toys you'll remember from childhood, whether you had one at home or rode one at the fair. These rocking horses are the beginning of a lifetime of memories. Fun and interactive play provide the steps to learning balance, coordination, and sounds.
Radio Flyer Champion Interactive Horse Ride On
Rock back and forth on the Radio Flyer Champion rocking horse. The horse is an interactive ride on toy with three levels of play. The riding action activates realistic walk, trot, and galloping sounds. The hand-held carrot starts chewing sounds for interactive play. Comb accessory included to brush the soft yarn mane.
---
The Classic Hand Painted Wonder Horse
If you remember the spring rocking horse from your childhood, this hand-painted classic is sure to stir up memories. Fashioned from the same mold as the 1950s Wonder Horse, this bouncing steed will entertain your kids just as the original one did for generations. Includes large stirrups and handles to keep your young equestrian safe.
---
Spring Rocking Horse Plush Ride on Toy
The spring rocking horse is so soft your toddler will love riding it for hours. Sturdy and safe construction lets your child bounce and gallop at top speed. Hand-crafted with wooden handles for proper balance. Saddles, reins, and metal foot stirrup allow for multiple levels of foot placement. A wonderful keepsake to keep for life.
---
Spring Horse Rocking Toy with Sound
If you're looking for a durable spring rocking horse, this ride on toy is recommended for toddlers ages three and up. The coiled spring suspension provides a full range of motion, while the horse is held within a sturdy metal frame, including handles and foot stirrups to keep your child safe during play.
---
Rockin' Rider Legacy Grow-with-Me Pony
Your toddler will delight in getting to know this new spring rocking horse. This ride on toy grows from a bouncer and rocker to a spring horse. Made with huggable plush, your toddler will love the soft touch. Press its ears to hear the "I'm a Little Pony" song. Includes six phrases and sound effects.
---
Lightning Spring Horse
The "Lightning" spring horse is a great gift to introduce young toddlers to an interactive world of play and imagination. There are three positions for the stirrups, and the horse talks and sings "I'm a Little Pony." When your child bounces, motion-activated galloping sounds are activated. Features an adjustable volume control with on/off switch.
---
Rockin' Rider Legend Animated Plush Spring Horse
Neigh. Gallop. Stomp. Your child will experience realistic movements and sounds, activated when playing with this animated plush spring horse. The horse moves its mouth, nods its head, wiggles its ears, and swishes its tail. Press its ears to hear the "I'm a Little Pony" song, six talking phrases, and sound effects. Sturdy and durable.
---
Rockin' Rider Lacey Talking Plush Spring Horse
Your toddler will go wild for the talking plush spring horse. It promotes interactive play with six talking phrases and sound effects with a synchronized moving mouth. The horse is made with soft, huggable plush and a sturdy steel frame, including stirrups with three positions for your child to grow into.
---
Rockin' Rider Lucky Talking Plush Spring Horse
This talking spring rocking horse looks so real – the huggable plush feels soft to the touch. Your toddler can play and interact for hours, singing along to "I'm a Little Pony" and responding to six talking phrases. The horse's mouth is synchronized to move with the words. A great rocking horse for toddlers.
---
Rockin' Rider Princess Spring Horse Ride On
Your toddler will love to ride on this Princess spring horse. Soft, pink plush with a fantastical pattern, the horse moves its mouth, nods its head, wiggles its ears, and swishes its tail. Kids can hear "I'm a Little Pony" and six fun talking phrases. When the horse moves, realistic galloping sounds are activated.
---
Kinbor Baby Kids Toy Plush Wooden Rocking Horse
Introduce your toddler to the movements and sounds of a real horse with this spring rocking horse. It's a great way for your child to learn a new physical activity and balance. Kids can interact with the rocking horse by squeezing its ears to emit realistic neighing or galloping sounds. Provides hours of fun.
---
4 Fun Diy Project for Your Horse Lover
Outdoor Horse And Saddle Swing

Follow this blog and create a rocking horse with saddle and stirrups on a swing. Your kids will experience swinging and riding at the same time. Transform this unique outdoor saddle-swing and create hours of fun and play. Buy the saddle, set up the hardware, and include stirrups for a realistic experience.

Diy Horse on A Stick

For a fun filled Saturday afternoon, create your own DIY Horse on a stick together with your children. Follow the instructions using paper, grocery bags, scissors, pencil, and a dowel. Download the template, and get ready to make a horse on a stick that your kids will play with for hours.

Diy My Little Pony Stick Horse Pattern

Create a basket full of horses on sticks for your little ones and their friends. With a little bit of creativity, you and your kids will have fun together creating horses on sticks. These hobby horses can be made with all different colours and will bring hours of fun and imagination to young kids.

How to Build a Spring-suspended Rocking Horse

Learn how to build a spring rocking horse following the instructions in this article. Provided are directions for framing, cutting, and trimming, including diagrams. You'll create a beautiful rocking horse that your children will play with for years. Build solid memories with this durable, home-made ride on toy. A timeless keepsake to keep in the family.

(You may also like: 20 Most Unique Wooden Rocking Horses)
---