When I opened up the box I was able to remove the game pieces and follow the instructions to assemble it. Inside the box is a large square platform, a toilet base and a large toilet bowl complete with toilet paper holder. The toilet paper is a spinner and is numbered 1-3.
The game play is extremely simple. Once the pieces are all put together the bowl of the toilet has to be filled with water and the handle of the toilet has to be "flushed" several times to prime the system. Once the game begins, each player takes turns facing the toilet toward themselves and spinning the toilet paper roll. Then when you land on a number, you are to pull the handle and flush the toilet the amount of times matching your roll. If you hear a flushing sound then you are in the clear. If you don't, prepare for a splash of toilet water in the face and you are officially out!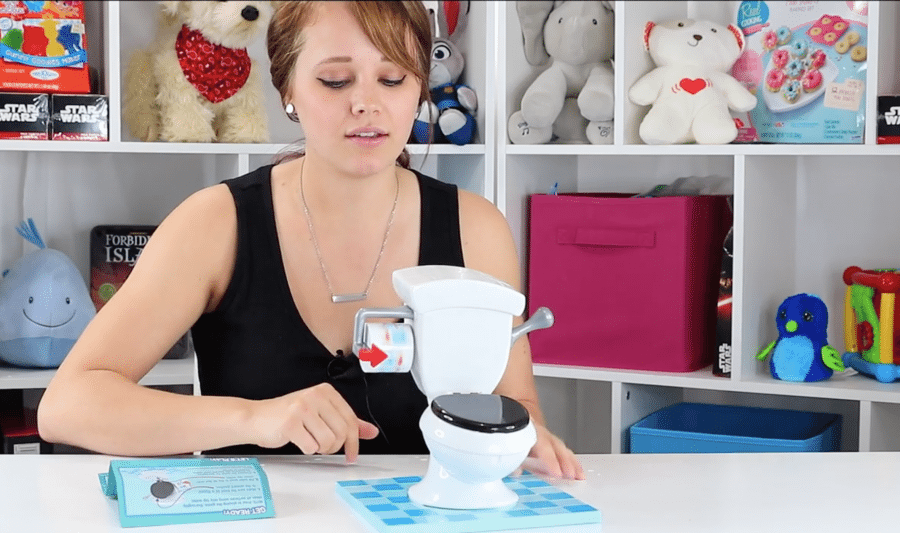 I like how easy everything is to set up to play and the simple nature of the play time.
I feel like my specific Toilet Trouble Game isn't working very well because I was only able to get it to spray once in about 20 different flushes.
This game of chance is recommended for players 5 and older. However, it is simple enough for younger players to do as well with some help.
Even though it seems my Toilet Trouble Game isn't working as well as I hoped, I do like this game. It is incredibly easy to play since it is just a game of chance but it is a silly game with a gross side-note so it's sure to be a hit with the littles!
(You may also like: Melissa and Doug Suspend Game)
---