There's nothing worse than sitting down to a card or board game that sucks, which is why we scoured the magical realms to bring you a selection that includes unicorns, dragons, fairies, and even soft and squishy poop that you don't want to step in! So if you're looking for a unicorn toy for the child who loves these majestic animals, consider choosing one which the whole family can get in on, for fun that lasts much longer than a rainbow.
Unstable Unicorns
Who needs friends when you can have mythical creatures? Unstable Unicorns is the fun card game in which players betray their friends to build the best unicorn army in the world!
Prices Vary
Don't Step In It Game
Players aged 4+ will need to watch their step as they spin the spinner and make their way across the play mat blindfolded, while trying to avoid stepping in squishy unicorn poop.
$15.39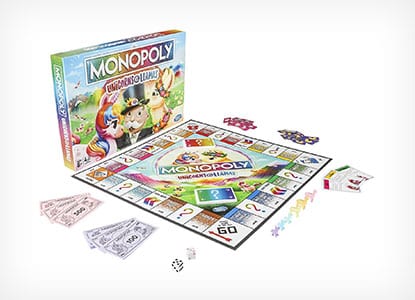 Monopoly Unicorns Vs. Llamas Board Game
When you combine an all-time favorite board game with magical creatures, you know you're onto a winner. Designed to be played in teams, Monopoly Unicorns vs. Llamas is both enchanting and competitive.
$21.99
Unicorn Stacking Game
A game of strategy and steely nerves, players take it in turns to remove a colored wooden block from the tower and place it on the top without toppling the entire thing.
$16.99
Frozen Unicorns
Frozen Unicorns is a hilarious game which sees every player bar one pretend to be a frozen animal, person, or even insect while the remaining player tries to guess what it is.
$12.99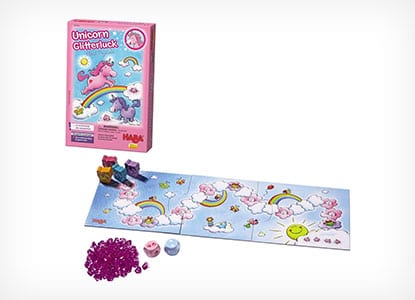 Unicorn Glitterluck Cloud Crystals
If you've ever wanted to be a unicorn, now's your chance, because in Unicorn Glitterluck up to 4 'unicorns' race from the clouds to the sun, collecting cloud crystals as they travel.
$17.25
UNOcorns Card Game
Up to 10 players can join in the fun of UNO with this special magical edition – the trouble is, the cards are so cute they won't want to part with them!
$10.00
Unicards
Unicorns, rainbows, and beautiful colors are all part of this fun unicorn game which is perfect for travelling and suitable for all ages who enjoy the excitement of 'matching' card games.
$9.99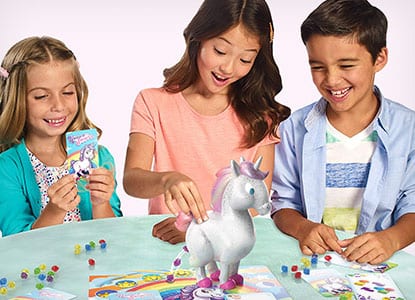 Unicorn Surprise Board Game
This game is so much fun, not least because of the cute unicorn toy who poops magical gems when her rear is pushed, which the pixies (players) must race to collect.
Prices Vary
Unicorn Power Battle
Invented by a 7 year old, this game has everything a child could want as they progress through the game from being ponies to unicorns, and then onto Pegasus and finally the mighty Alicorn!
$20.00
Munchkin Unicorns & Friends
The long-awaited expansion pack for Munchkins, this set adds unicorns, fairies, and undead cows to the mix, along with holding boxes, 73 cards, and a Munchkin Kill-O-Meter.
Prices Vary
---