Opening the packaging is a cinch with the Brilliant Baby Laptop, secured by easy twist-and-turn locks this is opened and in use within a minute of getting it home. The Brilliant Baby laptop has a handle made for little hands and portability, the laptop also sports a durable parent-friendly design with power button and volume adjust. There are no small parts for an all clear in the choking department and is easy to play with on the go.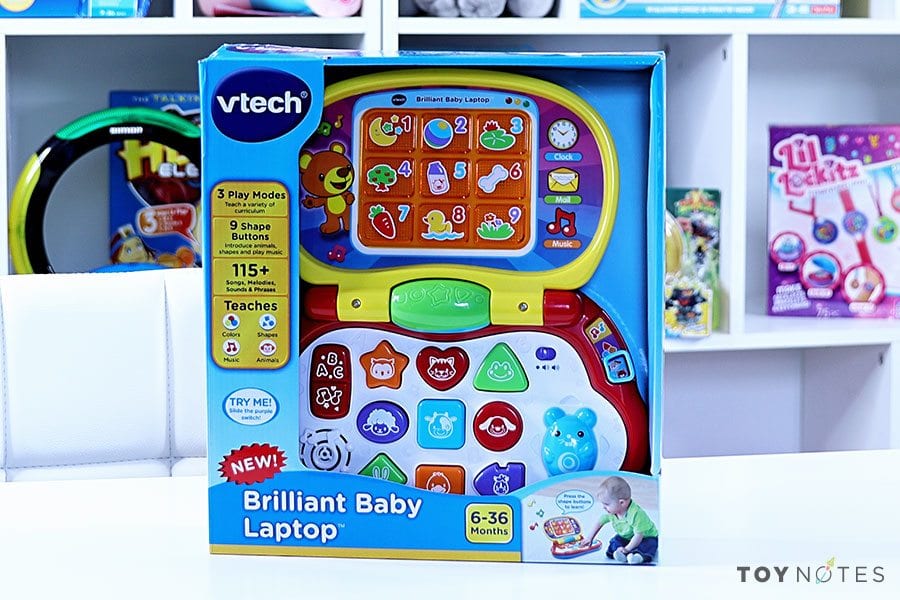 Playtime with the Brilliant Baby Laptop offers a very cute way for children of a wide age range to learn. It includes an animal setting, shape setting and music time setting. The face of the laptop lights up when you interact with it and each button is unique in shape, color and imprinted animal face. The "mouse" is an actual moveable mouse which is a cute irony not lost on this momma and her weakness for all things small and adorable. This toy is durable in design and lightweight and closes up for easy transport via the attached handle.
I like that the Brilliant Baby Laptop offers several ways for young children to learn and play. And any toy with both volume adjust and multiple learning settings gets an A+ in my book! The ability to be an on-the-go toy is an additional bonus since the this laptop is both small enough to fit in the diaper bag or in the seat with your child during car rides. The colors are bright and vibrant and the light up face keeps even very young children engaged when playing with this toy. Each button is its own shape and color with the included animal face imprinted on it. Because of this there is no shortage of things to learn for this young age group on the Brilliant Baby Laptop.
I also love that there are no small parts and again it is very durable. My son is notorious for being destructive to his toys and anything that can be removed will be. Subsequently, the aforementioned broken/removed part will find its way to his mouth no matter how large or small. This toy sets my mind at ease as a mom because I can give him his laptop and walk away for a few minutes without worrying he is going to find a way to hurt himself or break it.
My only complaint with this toy isn't actually with the toy itself. Searching it over I can't find anything that I don't like about the Brilliant Baby laptop. My only complaint is regarding the pricing. Initially looking at the toy I thought it was a steal. It comes in pink/purple and primary colors. When I first looked at the toy I looked at the pink/purple model but when I selected to purchase a more gender neutral color palette the price was jacked up more than 10 dollars extra. That was very annoying since the color doesn't add any value for playtime experience. It is just an unnecessary expense if you are a parent who likes to keep things more gender neutral during playtime.
The Brilliant Baby Laptop is marketed for age ranges from 6-36 months which is very appropriate for this toy. I think that it may start to lose its educational value around that 3 year mark but because it is a "laptop" older children will get satisfaction out of being like mom or dad and using their Brilliant Baby Laptop to "work" alongside you.
Overall, the Vtech Brilliant Baby Laptop is a great little toy. From the durable and portable design to the bright colors and light up face it is great for the marketed ages. I disliked the pricing difference purely based on color but for the value of the toy vs. the longevity of its ability for replay I would say it is a good buy no matter which color selection you purchase. I would purchase again for my son purely because it is so cute and practical for on-the-go play. As a busy mom I put a lot of value in a toy that can be used anywhere with ease.