Making slime with your kids is the perfect rainy day activity, and the good news is it's easy to adapt to any occasion just by changing the colors. These recipes are easy and safe, and by using beautiful colors and lots of shimmer you can create a batch of magical unicorn slime which will keep them enchanted and entertained for hours.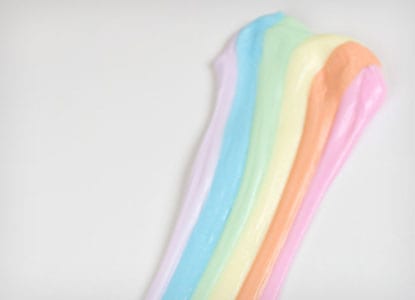 8 Color Rainbow Unicorn Slime
The magic of unicorn slime is all in the colors, and this recipe makes full use of that by combining beautiful pastel shades to represent the mythical creature's rainbow.
Glitter Unicorn Slime
What's the one thing you can add to unicorn slime to make it even more magical? Glitter! Make a batch of this fun goo using any color combination, then let the magic begin.
Satisfyingly Crunchy Unicorn Floam Slime
Hold the front page! This fluff slime is not only made using wonderful fantasy colors, but it also contains Styrofoam beads which pop and crunch to add to the sensory experience.
Fluffy Rainbow Unicorn Slime
This unicorn craft makes the fluffiest, prettiest slime that feels as light as a cloud when played with, and has the appearance and texture of soft, whippy ice cream (or unicorn poop).
Black Unicorn Sprinkle Slime
If your child loves unicorns but doesn't love the pretty pastel colors usually associated with them, try out this unusual variety which makes jet black slime studded with rainbow sprinkles, instead.
Clear Rainbow Unicorn Slime
Unlike most slime recipes, this one produces a clear, colored goo which gives an almost crystal-like quality, especially when iridescent glitters and sequins are added for an extra helping of magic.
4 Color Unicorn Poop Fluffy Slime
If you love the idea of homemade slime but don't want to use Borax, try this recipe which uses shaving foam, glue, liquid starch, and coloring to create rainbow colored unicorn poop.
3-Ingredient Unicorn Slime
Super pretty and easy to make, this slime uses glitter glue to add both color and sparkle, along with contact solution and baking soda for a delicate, pastel colored goo.
Giant Unicorn Slime
This floam recipe has it all – fluff, goo, crunch, rainbows, and a sprinkling of glitter magic; what's more, making it is almost as much fun as playing with it when it's finished.
---